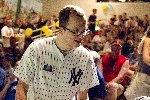 Date:
July 17, 2018 to July 17, 2018
Where:
National Baseball Hall of Fame & Museum, 25 Main St., Cooperstown, NY, Otsego, 13326
Baseball's biggest stars return to the Museum's big screen this July in Cooperstown at the National Baseball Hall of Fame and Museum's annual All-Star Gala.

Cooperstown-area visitors and Central New Yorkers can watch the 2018 Major League Baseball All-Star Gala live from Nationals Park in Washington, DC, in style at the popular All-Star Gala at the Museum's Grandstand Theater on Tuesday, July 17. Fans can enjoy the game as they watch Fox's live television coverage of the 89th Mid-Summer Classic.

The Hall of Fame's All-Star Gala provides an evening of family entertainment with prizes, snacks and more for baseball fans of every age. Doors to the Gallery open at 7:30 p.m., with game beginning at 8 p.m.

Fans will be treated to hot dogs and ballpark-style snacks, along with a limited edition commemorative All-Star Gala button for all guests in attendance. Scorecards will be distributed to fans, and official All-Star Game programs will be available for purchase. During the game's inning breaks, fans will be able to compete in a variety of games and trivia contests for an opportunity to win door prizes. The All-Star Gala is made possible by the generous support of Price Chopper Supermarkets.

Tickets to the All-Star Gala will be available first to participants in the Hall of Fame's Membership Program and cost $10 for adults and $5 for children under 12. Tickets can be reserved in advance by calling the Museum's Membership Department at 607-547-0397 or by visiting the Membership and Information Desk at the Museum in Cooperstown.