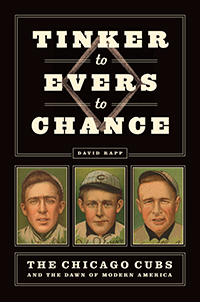 Date:
July 04, 2018 to July 04, 2018
Where:
National Baseball Hall of Fame and Museum, 25 Main Street, Cooperstown, NY, United States, 13326
Event Type:
Education, Family, Other
Our Authors Series brings noted baseball authors to Cooperstown for special lectures and book signings during the summer months. These programs are included with the cost of admission.

On Wednesday, July 4th at 1pm, the Hall of Fame will welcome author David Rapp to talk about his new book, Tinker to Evers to Chance: The Chicago Cubs and the Dawn of America.

Author David Rapp explores the careers of Hall of Famers Joe Tinker, Johnny Evers, and Frank Chance, who came together in rough-and-tumble early 20th century Chicago and formed the defensive core of the most formidable team in big league baseball. Led by the three infielders, the Chicago Cubs won four National League pennants and two World Series championships from 1906 to 1910. At the same time, baseball was transforming from small-time diversion into a nationwide sensation. Tinker to Evers to Chance examines this pivotal moment in American history, when baseball became the game we know today.

The program includes a presentation in the Bullpen Theater, followed by a book signing in the Library Atrium. Presentation at 1 pm. Book signing at 1:30 pm.