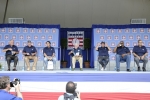 Date:
June 26, 2019 to June 26, 2019
Where:
National Baseball Hall of Fame and Museum, 25 Main Street, Cooperstown, New York, 13326
Our Authors Series brings noted baseball authors to Cooperstown for special lectures and book signings during the summer months. These programs are included with the cost of admission.
On Wednesday, June 26th at 1pm, the Hall of Fame will welcome author Wayne Coffey to talk about his new book, They Said It Couldn't Be Done: The '69 Mets, New York City, and the Most Astounding Season in Baseball History.
Gracefully told with unprecedented depth and set against the backdrop of the Vietnam War, the moon landing and the mayhem of Woodstock, They Said It Couldn't Be Done is the uplifting chronicle of a wise manager, Gil Hodges, and his overachieving roster of heroes.
The story of the 1969 New York Mets has long since entered sports lore as one of the most remarkable of all time. But beyond the "miracle" is a compelling narrative of an unlikely collection of players and the manager who inspired them. The enduring richness of the story lies in a team comprised of untested youngsters, overlooked veterans, and four African-American stalwarts who came of age in the shadow of Jackie Robinson.
Bestselling author Wayne Coffey has captured the voices of players and fans, reporters and umpires, to bring to life a moment when a championship descended on a city.
The program includes a presentation in the Bullpen Theater, followed by a book signing in the Library Atrium. Presentation at 1 pm. Book signing at 1:30 pm.
Free with the price of admission.