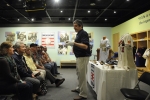 Date:
April 12, 2019 to April 13, 2019
Where:
National Baseball Hall of Fame and Museum, 25 Main Street, Cooperstown, NY, 13326
he Collection Care and Conservation Workshop is a new program that provides fans with a behind-the-scenes opportunity, in-depth learning encounter and once-in-a-lifetime dining experience.
Participants will enjoy a Library Archive tour, a Museum Collections artifact spotlight and unique seminars through two sessions outlining how we care for our collections - along with principles to assist you in caring for your baseball collection or other cherished items.
One of the highlights of this experience will be a private catered dinner within the iconic Hall of Fame Plaque Gallery.
A Sustaining Membership ($125 value) is included with this package and features a great lineup of benefits, including: The Hall of Fame Yearbook, Almanac and Memories and Dreams magazine subscription, along with discounts, free admission to the Museum and more.
Available for purchase through select Cooperstown Chamber of Commerce accommodations, the Collection Care and Conservation Workshop is an unforgettable journey for baseball fans and collectors or a great gift for someone special. There are a limited number of spaces available for this inaugural event in March, so book your trip today.
Click here or call (607) 547-0397 for more information.