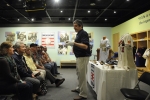 Date:
January 02, 2019 to February 28, 2019
Where:
National Baseball Hall of Fame, 25 Main Street, Cooperstown, NY, 13326
Event Type:
Arts & Theater
The National Baseball Hall of Fame and Museum is the place where memories and stories are preserved. The timeless legacies of baseball's greatest moments and players are brought to life for fans to experience and cherish.
The Custom Tour Experience is a new program that connects fans to their favorite team and memories through a unique experience at the Baseball Hall of Fame. and
Participants will enjoy a personalized visit focused around their favorite team - including a private artifact spotlight featuring items currently not on display in the Museum, followed by a brief guided tour of the Museum highlighting their favorite team.
A Sustaining Membership ($100 value) is included with this package and features a great line-up of benefits: yearbook, almanac, magazine subscription, discounts, free admission to the Museum and more.
Available for purchase through select Cooperstown Chamber of Commerce accommodations, the Custom Tour Experience makes a perfect get-away for you and your family or a great gift for someone special.
This is a limited time offering only during the months of January and February.
Click here or call (607) 547-0397 for more information.