Welcome to Cooperstown Event Calendar
Things That Go Bump in the Night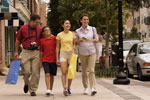 An Eerie Lantern-Lit Tour of the Museum
Friday, October 20 | Saturday, October 21 | Friday, October 27 | Saturday, October 28
Hour-long tours begin at 5:30, 6:00, 6:30, 7:00, 7:3
0, 8:00 pm
Experience The Farmers' Museum during the most haunting time of the year. Join museum guides as they lead you about the shadowy grounds and recount the many mysteries and ghostly happenings that have occurred in the Museum's historic village.
Walk through the darkened 19th-century village by lantern, stopping at the Blacksmith's Shop, Bump Tavern, and other buildings.
Hear stories associated with the museum's buildings, such as the tale of a young ghost sighted by staff and guests in Bump Tavern and the mysterious early morning strikes on the blacksmith's anvil. Some of the ghostly tales are adapted from the Louis C. Jones classic, Things That Go Bump in the Night, a timeless record of haunted history and restless spirits in New York State.
At each tour's end, hold your breath as one of the Templeton Players dramatizes one of Edgar Allen Poe's classics.
Reservations are required. Admission is $10 per person (ages 3 and up). Please call (607) 547-1461
Details
Start:
October 20, 2017
End:
October 21, 2017
Where:
The Farmers' Museum 5775 State Highway 80
Cooperstown,
NY
13326
USA
Phone:
Event Type:
Family
Ticket Price:
By submitting this comment you agree that your personal information will be made public.