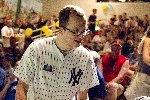 Date:
October 28, 2017 to October 28, 2017
Where:
National Baseball Hall of Fame and Museum, 25 Main Street, Cooperstown, NY, 13326
Event Type:
Family, Other, Sports & Recreation
The National Pastime's marquee event will come home to Cooperstown via the airwaves as the World Series Gala returns to the National Baseball Hall of Fame and Museum this Saturday, Oct. 28.
The Museum's Plaque Gallery will play host to one of the Hall of Fame's most popular annual events. The family-friendly evening features ballpark food and soft drinks, trivia, raffles, prizes and screening of FOX's live broadcast of Game 4 of the 113th World Series.
A ticket is required for the World Series Gala and costs $10 for adults and $5 for children under 12. Tickets are available to the general public by calling 607-547-0397 weekdays between 9 a.m. and 5 p.m.