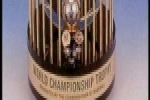 Date:
August 04, 2018 to August 05, 2018
Where:
National Baseball Hall of Fame and Museum, 25 Main Street, Cooperstown, NY, US, 13326
Event Type:
Family, Sports & Recreation
As the pennant races heat up, the symbol of the Astros' historic championship will come to Cooperstown.

The Hall of Fame will host Astros Weekend Aug. 4-5, with the 2017 World Series Trophy on display at the Museum both days. Museum visitors will have the chance to relive the 2017 season and create new memories in Cooperstown, where artifacts of the Astros' world title will be preserved forever.

The trophy will be on exhibit at the Museum from 9 a.m. to 5 p.m. on Saturday, Aug. 4 and 9 a.m. to 5 p.m. on Sunday, Aug. 5. Visitors will be permitted to take pictures with the trophy.

The Museum will be open from 9 a.m. until 9 p.m. both days. Throughout the weekend, visitors can learn about the history of the Houston Astros through guided exhibit tours, artifact spotlights, player profiles, trivia contests, themed craft stations and other special opportunities.