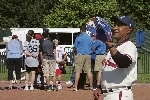 Date:
July 27, 2018 to July 27, 2018
Event Type:
Arts & Theater, Other
Join a dream team that could only come together in Cooperstown, with Ozzie Smith and Hall of Famer guests hosting a morning experience in a fundraiser for the Hall of Fame's educational programs. For the 17th year, PLAY Ball returns as Players, Legends and You with an interactive meet and greet, starting at 8 a.m. on Friday, July 27th during Hall of Fame Weekend 2018.
PLAY Ball features over two hours of non-stop interaction, including personalized instruction and the chance to turn double plays. Each participant receives time on the field with these baseball legends, as well as personalized photo and special mementos of the occasion. Prior to the on-field activity, participants and Hall of Famers will share a special breakfast in the Hall of Fame's Plaque Gallery.
This event is open to fans of all ages. Space is limited and the event will be open for registration this spring. Interested participants can register by calling the Membership department at 607-547-0397.