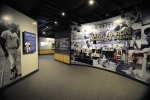 Date:
February 19, 2018 to February 24, 2018
Where:
The National Baseball Hall of Fame and Museum, 25 Main Street
Seventy one years ago this spring, Jackie Robinson made history for the Brooklyn Dodgers - helping fulfill baseball's destiny as America's National Pastime.
As many schools in the northeast pause for Winter Break, the National Baseball Hall of Fame and Museum celebrates Robinson's heroic journey - along with countless other milestones - in honoring Black History Month.
The Cooperstown shrine hosts special daily programs for kids of all ages Feb. 19-23 as part of Presidents' Week. Families can experience unique Museum artifacts through guided tours, learn about the history of African Americans in baseball.
All events are included with Museum admission.